Drive Your Career
Highest Path offers professional career coaching for individuals who are looking to work with someone to help them get to the next level. Whether you are interested in making a career change, are going through a transition, looking to advance in your current career, or want to develop your leadership and management skills, Highest Path can help you get there.
The Drive Your Career™ Coaching Program is designed for mid-career professionals who are ready to move forward toward their best selves. During this program, we will look at your short term and long term career goals, and assess which skills you'll need to develop in order to achieve your desired professional outcomes. You'll work with one of our ICF-certified coaches who will work with you on a one on one basis, customizing the program to meet your specific needs and goals.
How does career coaching work?
Our belief is that everyone is naturally creative, resourceful and whole. Basing our relationships on this premise, we design an alliance geared towards achieving your desired outcomes and performance objectives.
Using a holistic style of coaching focusing on the whole person where we identifying strengths as well as blind spots, we help our clients develop the ability to see from various perspectives, think outside the box, overcome their inner doubts and help cultivate confidence and clarity to move toward their career goals. You'll get exercises and tools that are proven to help you become a better, more effective leader to drive high-performing teams that get results.
The Drive Your Career™ Program can address key areas such as:
Addressing self-doubt and obstacles to self-confidence
Communication skills to make sure your voice is being heard at the table
How to strategically position yourself for more visibility and promotion
Owning your value and strengths to be able to better negotiate a raise or salary
Developing leadership skills to become an effective manager and to lead high-performing teams
Career next steps if you are considering a change or transition
The Program Includes:
A 360 leadership assessment to gain clarity on leadership blind spots and hidden strengths to identify areas for development.
Six 1 hour long sessions laser-focused on a specific topic or issue identified at the beginning of the session by the client
Homework is given between sessions that are designed to help client develop the specific skill set we are working on
Each session begins with a check-in on the homework so accountability is built into coaching to ensure that client is moving forward toward their desired goals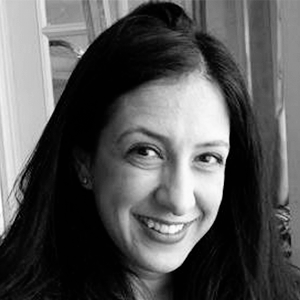 Lianna
When Lianna came to me, her direct manager explained to me that she lacked in maturity and confidence. As the HR Manager, a lot was expected of her in an organization that had been plagued with corruption scandals and high employee turn-over. She needed to exhibit authority, and had to get her team into shape immediately.
As I started to work with Lianna, I could see that this evaluation of her weaknesses was accurate. The good thing was that she was aware of it as well and wanted to change. So we embarked on a journey together to do just that.
The first thing we set out to tackle was increasing her self-confidence. She was very worried about what other people thought. She would go to her mother (who also worked at the company) for constant advice and reassurance. She would break into tears anytime she got any negative feedback. Her imposter syndrome was strong!
Over the next six months, we worked systematically and aggressively to shift the limiting beliefs about herself. Slowly, she gained confidence in herself, her abilities and her talents. She began to command more authority in the board room, and being the only woman in the room most of the time, felt more comfortable expressing her ideas and opinions.
This is what Lianna says about her experience:
"I was lucky enough to have Monique as my coach. Throughout my time working with her, I developed my inner strength and my inner voice. I now rely more heavily on myself, feel able to express my opinions more strongly, and even coach others to do the same!"
She later went on to be promoted and after a few years at the company, she left and got a position in a different organization, along with a new title – HR Director.
Laura
Laura came to me wanting to make a bigger impact in her role at a big international bank. She was a Director level executive and had great relationships with upper management, poised for the next step. But no matter how hard Laura tried to make an impact, she kept running up against a wall.
It soon became clear that there was no alignment with her vision and the values of the company. She knew she needed an exit plan. But she was too scared to take the leap.
What if I don't find another job? What if I have to take a pay cut? What if no one wants to hire me?
Through coaching, she finally left the bank and decided on taking six months off to enjoy time with her two small children, travel to Europe and just de-stress. But about two months into her sabbatical, she got a phone call. From her dream job.
Not only did she land her dream job with a salary increase, she also negotiated her start date at the end of her six month sabbatical. She and her family traveled to Europe (where I met up with her!) and she got to have some much deserved time off.
She got EVERYTHING she wanted, AND MORE!
Here is what Laura says about her experience working with Highest Path:
"I have had the opportunity to work with Highest Path for about a year and can say wholeheartedly that it has been transformational for my career path and personally. It has enabled me to gain a perspective which either I would have never learned, or would have taken me a long time to get to. Thank you for all you have done."
But all this didn't happen just by chance or by luck for Laura. This happened because she got clear on her values, defined what was truly important to her, and worked on her self-confidence and self-worth. She would have never taken the leap otherwise.
Ready to take your career and leadership to the next level with professional career coaching?